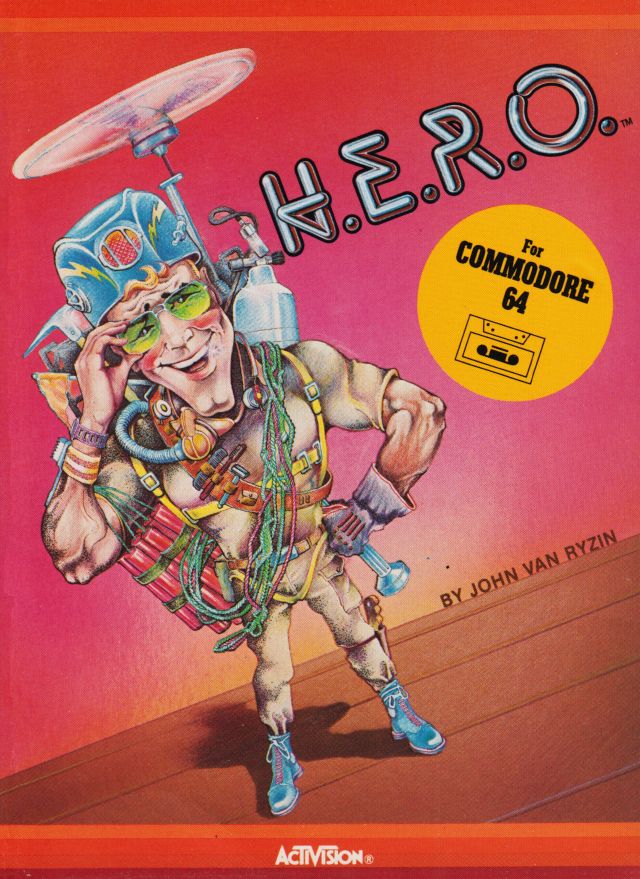 C64 Tape H.E.R.O.
Retrobug | 2022-04-06 11:30:28
H.E.R.O. (abbreviation for Helicopter Emergency Rescue Operation) is a video game written by John Van Ryzin and was published for the Atari 2600 by Activision in March 1984.
The player assumes the role of Roderick Hero, a one-man mine worker rescue team. Your task is to rescue miners who are trapped in Mount Leone by flying into the mine-shaft with your backpack mounted helicopter unit. This helicopeter backpack has a limited battery life, so you need to be fast. You also have a helmet mounted laser to shoot spiders, snakes and bats that live in the caves. Lastly, you bring with you six sticks of dynamite to blow up blocked shafts. Touch the hot lava in the mine, and you will face instant death.
The original game pushed the Atari 2600 to new limits. The use of color, graphics and play mechanics were superb. This Commodore version is very close to that original, with some updated graphics, but not what gamers at the time were used to on the Commodore. The Zzapp!64 magazine wrote that the game looked awful, sounds terrible, but plays absolutely beautifully.
Playability is the real success of H.E.R.O. The game mechanics are such that it takes real skill to complete a stage in the allotted time, and to maximize your score. We at Retrobug prefer the original 2600 version because it pushed that machine to the max. But the C64 version is just as fun to play, albeit not the most graphically or musically advanced game that you can get for this machine.